Nokia Lumia 1320 officially available in the UK on February 24
7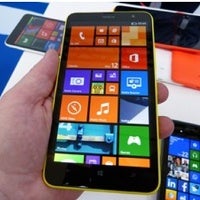 Today, Nokia announced that the phablet sized
Lumia 1320
would be available in the UK through multiple sales channels on February 24th.
The Lumia 1320 provides the same overall form factor to its flagship twin, the
Lumia 1520
, but with some more affordable components, making the 1320 a great option for those that want the large size without the large price tag.
Pricing was not part of Nokia's announcement, but Carphone Warehouse has the Lumia 1320 available for pre-order SIM-free for £299 ($500). That price point puts the 1320 in the same range as the Huawei Ascend Mate and 16GB
Nexus 5
. Given that a SIM-free Lumia 1520 can run as high as £599 ($1000), the Lumia 1320 offers great value for the form factor.
Of course, the
Ascend Mate
does not have LTE connectivity, and the Nexus 5, while sporting a full HD screen is a bit smaller. The Lumia 1320 has a dual-core Qualcomm Snapdragon CPU which does not ring of the leading edge hardware that is available on other devices, but the Windows Phone operating system is well known for being a very smooth experience regardless of the horsepower under the hood.
The Lumia 1320 also benefits from having all the Nokia experience applications installed too, from HERE Drive to Nokia MixRadio and Nokia Storyteller. Like the Lumia 1520, the Lumia 1320 also supports microSD storage expansion.
In addition to Carphone Warehouse, the Lumia 1320 will be available from EE, Virgin Mobile and other sales channels in just 10 days. Will you be picking one up?
via:
WPCentral