Nokia Asha Touch phones get 22 games by Namco Bandai
5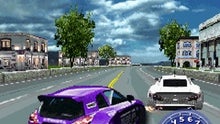 About a month ago, Nokia introduced the latest additions to its feature phone lineup: the
Nokia Asha 311
,
Asha 306
, and
Asha 305
. They are all pretty affordable, their touchscreens give them a modern feel, and the presence of a 1GHz processor inside each one should translate into satisfactory real-life performance. Yet now there is one more thing to like the latest Ashas for.
Nokia has partnered up with Namco Bandai
in bringing quality games to Asha Touch smartphones. Over 20 arcade classics are available for download from the Nokia Store, including PAC-MAN, Final Fantasy, and Flight Control. As far as pricing is concerned, all titles cost between $0.99 and $2.99, and in case you don't have a credit card, keep in mind that Nokia offers direct carrier billing with over 145 operators providing service in 52 countries.
Interested? Then head over to the Nokia Store on your Asha phone and check out what's new. The complete list of newly-added Namco Bandai titles is available in the press release below.
source: Nokia
Nokia brings classic arcade games to Asha Touch
PAC-MAN® and Final Fantasy headline 22 vintage games delivered by partner NAMCO BANDAI Games Inc.
Espoo, Finland, Tokyo, Japan and Cypress, California, USA
- Nokia has today announced NAMCO BANDAI will fully support the recently launched Asha Touch devices, having more than 20 arcade classic titles available to be downloaded through Nokia Store. The new devices were launched just last month and bring a colourful range of great experiences designed for young, urban and aspirational consumers.
Available through Nokia Store as of today, the agreement includes some of the most prestigious titles in the gaming industry, such as PAC-MAN®, Final Fantasy, ACE COMBAT® and Flight Control. Consumers will be able to take advantage of a new touch screen experience that makes mobile web browsing fast, with easy access to social networks and, of course, a great gaming performance.
In total, 22 will be coming on Asha Touch devices from NAMCO BANDAI Games Inc and NAMCO BANDAI Games Americas Inc. including the classics:
PAC-MAN®RIDGE RACER Drift
Flight Control
SOULCALIBUR®
ACE COMBAT NORTHERN WINGS(TM)
Final Fantasy
RIDGE RACER® Drift
BRAIN EXERCISE(TM) with Dr. Kawashima
GALAGA® Special Edition
These titles are priced between USD 0.99 and USD 2.99. Mobile gaming fans in more than 52 countries will be able to purchase titles without the need for a credit card, via Nokia's extensive direct billing agreements with over 145 operators.
James Kucera, head of mobile for NAMCO BANDAI Games America Inc., said: "Our partnership with Nokia perfectly illustrates the strengths of our brand's experience and leadership in the mobile games industry and fits our mutual resolve to bring games to all mobile users worldwide"
These latest phones have been designed to provide an incredibly rich, smartphone-like experience to consumers who want to be set free from excessive data consumption costs and short battery life. The devices offer a new, fully re-designed touch user interface, combining the proven ease-of-use from Nokia's heritage with digital design innovations specifically fit for the purpose.
The beautifully crafted Nokia Asha 311 is a fast and fluid 3.5G capacitive touchscreen device, powered by a 1GHz processor to provide a great internet experience. The bright and edgy Nokia Asha 305 is a fun and affordable phone, featuring the exclusive Easy Swap dual SIM. Its sister, the Nokia Asha 306, is a single SIM model, and becomes Nokia's most affordable Wi-Fi handset to date.
Nokia Store has just broken the 5 billion downloads landmark. From January to April, 42% of all content downloaded from Nokia Store was delivered to Asha and other Nokia devices based on the Java ecosystem. Just one year ago, that number was 10%. To date, more than 411 Nokia developers have with apps which have achieved more than 1 million downloads, while India Games, Pico Brothers and Inode have all driven more than 100 million downloads.