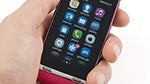 Introduction:
Nokia Asha 311
has arrived in our office and we received it with mixed feelings. It's part of the Asha lineup, a series of feature phones that is largely keeping Nokia afloat at the moment as it struggles selling enough Windows Phone smartphones. The Asha has gained some momentum in developing markets like India and this here Asha 311 is one of the best touchscreen phones in the series.
The Nokia Asha 311 packs a 3-inch low-res capacitive display and a 1GHz processor, both working in concert to bring the best out of the revamped interface of Series 40. Still, as affordable as the device is, low-end Android smartphones are now available for less and fighting against Android seems like an order way too tall for the Nokia phone. Let's see, however, how the phone actually performs before jumping into conclusions.
In the box, you get the usual pair of horrid Nokia
earbuds
that distort sound so much we wouldn't even try listening to music on them.
Design:
There is nothing impressive about the design of the Asha 311. It's a thick little phone with a good build quality, with no creaky moving parts. It comes in five different colors showing most in the fully colored back cover and less in the matte inward chin on the front. Fingerprints are definitely an issue with the glossy back cover.The screen (more on it later) is encircled with a hefty bezel that looks almost unusual for those accustomed to the narrower framing on smartphones.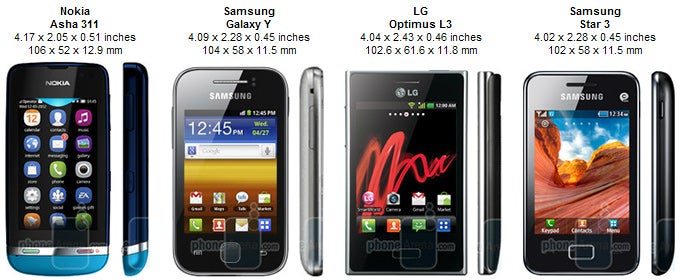 You can compare the Nokia Asha 311 with many other phones using our
Size Visualization Tool
.
The element that makes the phone easy to recognize are the the two
physical buttons
placed on a contrasted chromed plastic strip right below the screen. We wouldn't say it adds much to the aesthetics of the phone (rather the opposite), but we loved the two physical buttons, both very responsive, easy to press.
side keys
we just couldn't get used too - they were too rigid, too hard to press to the point of inconvenience. Not a dealbreaker, but definitely something to keep in mind.
Charging is done via either a proprietary Nokia port which is
on top
or a microUSB port right next to it. On top, there is also a 3.5mm headphone jack.
ambient light and proximity sensor
, that kick in during calls to dim the screen.
Display:
The Asha 311 is a touchscreen phone and one of the best in its family. The
3-inch LCD display with a resolution of 240x400 pixels
is capacitive and much more responsive than the one on the younger Asha sibling, the 305. It comes with Gorilla Glass protection, which is great news.
Viewing angles
are pretty average so colors only wash out slightly at extreme angles. Nokia is including a polarizing filter for better outdoor visibility, and with it we found outdoor visibility to be around average.