New rumor claims that Apple will not release an iPad Air 3 this year
36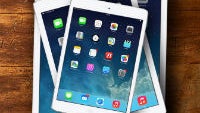 According to a new report from Taiwanese publication Digitimes, there won't be an Apple iPad Air 3 this year.
Before diving into the details, it should be mentioned that. although the publication has been right on multiple occasions in the past when reporting on upcoming smartphones and tablets, it is far from a perfect track record. As such, make sure to digest this info with a hefty dose of skepticism.
Contrary to recent reports that argued that the upcoming
Apple iPad mini 4 will come with significantly improved internal specs
, Digitimes claims that the fourth-generation compact iPad will only bring small upgrades compared to Apple's
iPad mini 3
. Given that the iPad mini 3 was basically identical to its predecessor except for the addition of a Touch ID fingerprint reader, this wouldn't spell good news for those with an eye for compact tablets.
The report makes no mention of the often rumored, productivity-oriented Apple iPad Pro. In the past few months, multiple sources suggested the 12.9-inch iPad that Apple appears to have been working on since early 2014 will finally make a debut this year, but Digitimes made no comment on the large iPad form factor in its new report.
The report then moves on to claim that, faced with
slowing demand for tablets
, contract manufacturers are now starting to look for orders centered around other applications, such as smartphones, wearables, and automotive devices. It looks like the rise of the phablet translated into a major decline for the tablet, and, at the moment, there's no sign of the situation reversing anytime soon.
Although Apple has historically unveiled new iPads in October, some reports claim that the company will unveil its new iPad generation right along the iPhone 6S series on September 9th. With less than a month to go until the day arrives, it won't be long before we can put these rumors to the test.