New York City is looking for developers that can devise a system to hail a cab with a smartphone
5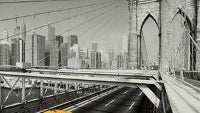 If you've experienced the hustle and bustle atmosphere of
New York City
, then you're surely familiar at how difficult it can be to fly down a taxi cab driver that's willing to give you a lift. Well, it seems like the city is on the hunt to look for developers who can make the whole process easier with the aid of a smartphone.
Specifically, the
Taxi and Limousine Commission
(TLC) of New York City is in the market of looking for developers who can
devise a new system
that would enable people with mobile phones to hail a taxicab. At heart, the system would require a way to allow customers to not only schedule a taxi ride, but to pay for it as well with their device.
Of course, there are some existing solutions out there – like the
Taxi Magic that we took for a spin
, which is already being used in 45 cities across the country. Alternatively, there are other companies such as
Hailo
, which currently has a cab solution in London already, that have set up a base in New York with the hopes of landing a deal with the city.
Naturally, the great city will more than likely see additional offers from other developers, but either way, we're simply one step closer to that reality of hailing and paying for a cab ride with our beloved smartphones. Can't be any easier, right?
source:
ABC News
via
TUAW
Recommended Stories