New Transformers: Forged to Fight game headed to mobile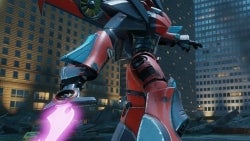 Fans of the Transformers franchise have it pretty good when it comes to mobile games. First, the Earth Wars battle strategy game hit Android and iOS in the spring. Now, Kabam and Hasbro have teamed up to bring a new action fighting and character collection Transformers game called Transformers: Forged To Fight.
The publishers promise intense one-on-one battles, robot to vehicle converting action, and deep RPG elements. Familiar characters, such as Optimus Prime, Bumblebee, Megatron, Starscream and Grimlock will be leveling up over time, unleashing powerful new abilities and devastating robot-vehicle attacks.
Forged To Fight will let players collect the most memorable Transformers from every era of the brand's thirty-plus year history -- including Autobots and Decepticons from the animated TV series, blockbuster films, as well as fan-favorites from the Transformers comic book series and Hasbro's line of iconic figures. As fans assemble their team, they will forge alliances, battle other players and dive into a unique storyline.
The new title will enter beta testing in select territories soon and will be available worldwide in Spring 2017. You can check out the impressive visuals and a bit of action-packed gameplay in the trailer and screenshots gallery below.