Motorola's Sweetheart deals let you snatch a free Moto Mod when you purchase a new Moto phone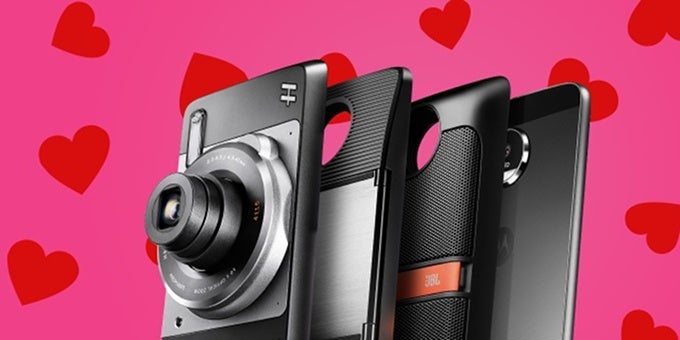 It's the day of love today, and while everyone is running frantically around as if their heads are on fire with flower bouquets, sweets, and heart-shaped balloons, Motorola is hosting a neat promotion that might get you a new device as well as a neat freebie.
Moto's "Sweetheart deals" let you snatch a certain Moto Mod for free when you buy a Moto Z, a Moto Z Force Droid, or a Moto Z Play. The available bundles include different Moto Mods, like Hasselblad True Zoom one, which allows you to optically zoom 10x on your subject, the Moto Insta-Share Projector, and the Moto JBL SoundBoost Speaker. Additionally, the prices of certain devices and device + Moto Mod combos have been reduced a little.
Here are all the deals listed for you.
| | | |
| --- | --- | --- |
| Bundle | Location | Price |
| Moto Z Force Droid + Hasselblad True Zoom | Verizon only | $720 |
| Moto Z Force Droid + Moto Insta-Share Projector | Verizon only | $720 |
| Moto Z + Hasselblad True Zoom | AT&T, T-Mobile, others | $699.99 |
| Moto Z + Moto Insta-Share Projector | AT&T, T-Mobile, others | $699.99 |
| Moto Z Droid + Hasselblad True Zoom | Verizon only | $624.00 |
| Moto Z Droid + Moto Insta-Share Projector | Verizon only | $624.00 |
| Moto Z Play + JBL Soundboost Speaker | Verizon, AT&T, T-Mobile | $449.99 |
| Moto G4 Play | Carrier-friendly | $129.99 ($149.99) |
| Moto Z Play + Hasselblad True Zoom | AT&T, T-Mobile, others | $699.98 ($749.98) |
| Moto Z Play Droid + Hasselblad True Zoom | Verizon only | $657.99 ($707.99) |
| Moto Droid Turbo 2 (64GB) | Verizon only | $528 ($720) |
| Student discount | Motorola Store | 10% off on all orders |