Motorola plans on a stellar comeback, casts its lot in with Android?
1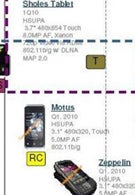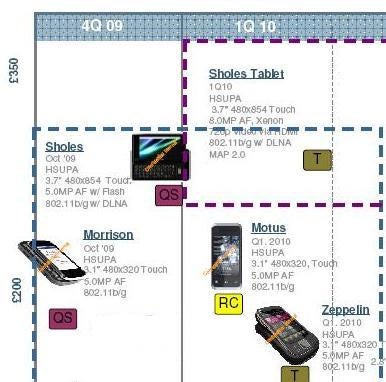 A picture of a document that allegedly provides insight on Motorola´s plans for the European market in the coming months has been leaked on the Internet. The first cell phone is the
Sholes
(also known as the Droid and Tao) - it runs Android and is expected to hit the shelves across the US through Verizon either later this month or sometime around the coming holidays. But we still don´t know anything about tis European début. The rumors floating about have it that officially, the phone will be called the Droid (at least in the US), although nothing has been confirmed to date. However, the leaked image seems to back up the unofficial information that the Sholes/Droid/Tao will sport a 3.7-inch screen with resolution of 480x854 pixels, 5MP camera with autofocus and flash, Wi-Fi and DLNA support. Since this looks like the European version of the handset, it will be able to
run on H
SUPA networks
.
Motorola Sholes CDMA (Droid, Tao) Preliminary Specifications
The second handset that gets mentioned is the Motorola Morrison, that was already announced as the first Android cell phone of the manufacturer, also known as the
Motorola CLIQ in the US and DEXT in Europe
. It´s already commercially available across the old continent through T-Mobile and its US release is coming 2 December.
Motorola CLIQ Specifications
The next model on the roadmap gets called the
Sholes Tablet
. We don´t have a clue if the device is a cell phone or internet tablet with a built-in GSM module (similarly to the Nokia N900). The leaked information goes this is the Sholes with its hardware keyboard removed, equipped with
8MP camera
capable of capturing 720p videos. Nothing has been mentioned about the operating system, but we guess it will be running Android OS. Finally, the handset is due to hit the market sometime in Q1 2010. Fingers crossed!
The two models that are mentioned last appear to be the
Motus
and
Zeppelin
and this is the first time we´ve heard of any of these. They will be equipped with 3.1-inch displays with resolution of 320x480 pixels, 5-megapixel cameras and support Wi-Fi. The leaked document contains smaller pictures of the handsets and they both seem to be candybar handsets running Android OS, but still, this is just a speculation.
It seems Motorola is preparing a counter-offensive and stellar comeback to the club of elite cell phone manufacturers, casting their lot in with Google´s Android OS. Are we to find out the truth at some of the upcoming exhibitions at the beginning of 2010 we wonder? If you happen to know more about any of the still unannounced cell phones of Motorola, do share it with us at
tips@phonearena.com
source:
DialAPhone
via
EngadgetMobile