Here's the Motorola One Action leaked in blue and white, awaiting imminent release
2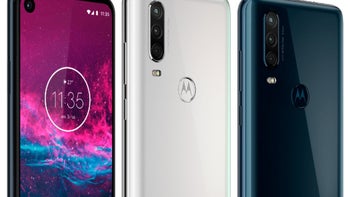 Motorola is on the cusp of announcing a few extra handsets in its Android One line, after the
Vision
model already made a cameo, as renders for the
One Action
midranger just leaked out.
Its purported specs are not that different from the current One Vision, as the Action is also said to arrive with a 6.3-inch LCD panel with 1080p resolution, a decent Exynos 9609 processor, 4GB RAM / 128GB internal storage, and a 3500 mAh battery pack.
The One Action, however, will slide down to a lower price point by swapping the 48 MP sensor of the Vision for a 12MP one, offering a 64GB model, and even one with 3 GB RAM / 32 GB storage.
The other main difference between the two? Well, the more affordable One Action will apparently come with a plastic body, instead of the premium glass one on the Motorola One Vision. That's not why it will be called Action, even though you can toss it around easier than having to baby a glass model. The Action part of the name probably refers to the 117 degree wide-angle Action cam that you see stamped around the camera area, or maybe it is the whole package - body and camera together that is meant for the outdoorsy.
If you want to take a gander at how the Motorola One Action's plastic housing may seem in the flesh, look no further than the newly-obtained image renders of the upcoming midranger in white and a greenish blue or a blueish green, whatever your eyeballs advise your brain this is.

We are willing to overlook the thick bezels for the pretty punch-hole display, the triple rear camera, complete with a wide-angle lens, and the decent price point. Available in the white and blue shown here the Motorola One Action is expected to be unveiled at some point in early August at a sub-$400 price tag. Oh, it will also have a golden-colored version, most likely for China, which color is your fav?