Moto Z2 Force now comes with a free Amazon Alexa speaker, and 2 months of Amazon Music Unlimited
3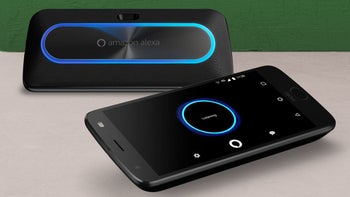 Motorola has kicked off yet another new year promotion, thistime involving the Moto Z2 Force - the company's shatterproof flagship smartphone. FromJanuary 21 and until February 25, folks who are buying the Z2 Force in the US canget a free Moto Mod Smart Speaker with Amazon Alexa (normally priced at$149.99), as well as a 2-month trial of Amazon Music Unlimited Family Plan (normally$14.99 per month).
To qualify for this offer, you can purchase your Moto Z2Force not just from Motorola, but also from all authorized carriers andretailers, including AT&T, T-Mobile, Sprint, US Cellular,Best Buy, and Verizon (starting January 25). We'd say it's better to get the phonefrom a carrier, as Motorola is asking $720 for it, while most carriers areselling it for less.
After purchasing a Moto Z2 Force, you'll have to redeem yourfree Amazon Alexa Mod online no later than March 27. If you're getting thehandset from Verizon, you have to actually buy the Moto Mod, too, and you'll receive arebate in the form of a gift card. Additional details about Motorola's latestoffer are available at the company's official website via the source linkbelow.
source: Motorola