Motorola Moto Mod with Alexa speaker will arrive in November, priced at $149.99
6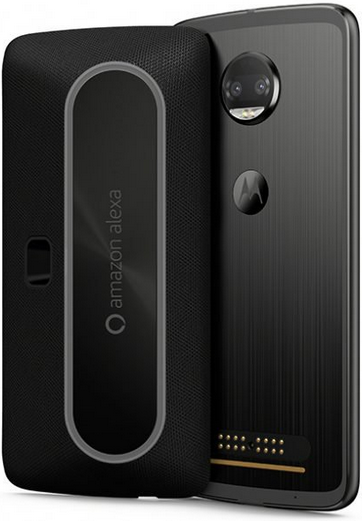 The Moto Mod with the Alexa speaker will be coming next month, priced at $149.99
If you've been waiting patiently for the Moto Mod Speaker with Amazon Alexa to go on sale, Motorola today revealed that the accessory will be launched some time next month at locations where the Amazon Echo is sold, priced at $149.99. Alexa delivers the latest news, weather and sports scores. The virtual assistant can also set your smart appliances (lights, thermostat, entertainment systems), arrange for a ride via Lyft, and much more.
As with all Moto Mods, the Alexa speaker will snap on the back to any Moto Z series handset thanks to the 16 magnetic pins on the back of the phone. This Moto Mod also comes with 15-hours worth of battery power so that the phone's own cell doesn't need to be used to power the accessory.
The Moto Mod Speaker with Amazon Alexa is equipped with four microphones, so you shouldn't have a problem with Alexa hearing your voice even if you're not holding your phone, or standing right next to it.
If you own a Moto Z, this is the accessory that is always ready to make your day go smoothly.
source: Motorola