Mobile shopping expected to drive record online sales figures today for Cyber Monday in the U.S.
Everyone has barely had enough time to recover from Black Friday. Now, today is
Cyber Monday
which means that you should be able to find a ton of products on sale online. As it turns out, shopping on mobile handsets and tablets was already extremely popular this past weekend; the top 100 stateside retailers as reported by Adobe Analytics rang up a record $7.9 billion in online sales during Black Friday and Thanksgiving. Sounds like retailers ended up with the larger half of the wishbone as those sales were up 17.9% year-over-year.
Adobe says that today will set a new record for the most online sales on a single day in U.S. shopping history. Adobe predicts that $6.6 billion in merchandise will get rung up in cyberspace today, with the vast majority of sales being made on smartphones and tablets. Even though some stores offered gifts or last minute discounts to Black Friday shoppers who actually made an appearance inside a store, parking spots at shopping malls were plentiful as shoppers turned to their trusty smartphones to place orders. According to marketing firm Criteo, 40% of Black Friday purchases made online were completed on a smartphone, up from 29% last year.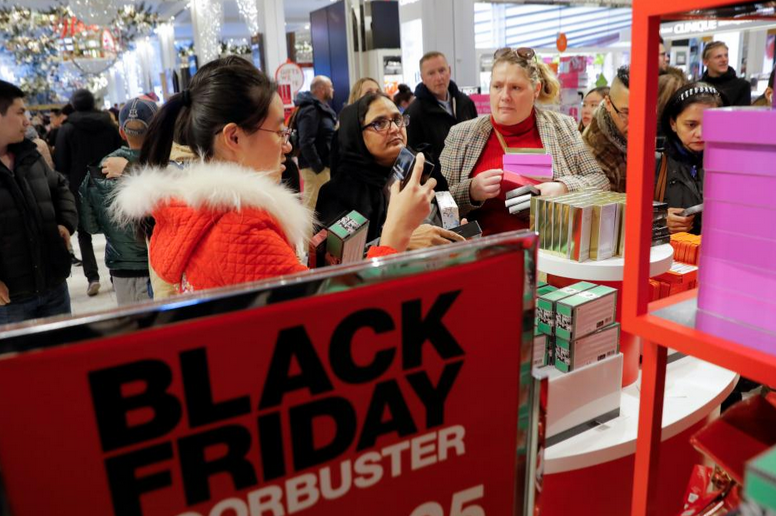 Slowly becoming a rarity, shoppers show up at Macy's in Herald Square
Other data indicated that between November 1st and Black Friday, 32% of all purchases were made on a smartphone or tablet. Handsets were responsible for delivering 45% of online shoppers to retailer's online stores. Tablets, once the preferred mobile device for online shoppers, no longer have a monopoly on large screens. These devices drove 9% of shoppers to online shopping sites, and 11% of online sales were rung up on a tablet. Despite dire warnings about the falling importance of brick and mortar stores, research firm ShopperTrak said today that traffic inside physical stores topped forecasts by declining only 1% on Black Friday.
Among the biggest selling products on Black Friday was hybrid video game platform Nintendo Switch, which converts from an in-home game playing system to a portable unit thanks to its controllers. Chromecast and Roku were both popular as well, showing that there is plenty of consumer demand for devices that stream video and audio content over large screen televisions.
And as you can tell from our current top stories, discounted handsets remain a quite popular item available for today's shopping holiday.
source:
Reuters