Microsoft pushes Windows RT update
2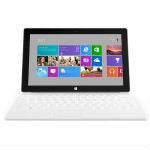 Today saw one of Microsoft's traditional "patch Tuesday" releases, and Windows RT was part of the fun. There isn't a ton in the update, but there are a couple improvements to look forward to if you're the owner of a Microsoft Surface or other Windows RT tablet.
The update is quite small, and the only things on the changelog are improvements to audio playback when in Connected Standby, and additional capabilities for handling firmware updates during low battery situations. Of course, there are also a few security fixes in the update as well, although they don't get an explanation.
If you want to check for the update, you'll need to swipe from the right to get to the Settings, then the odd part of the path is going to the "Change PC Settings" option, which isn't the most intuitive spot to look, but there you'll see the Windows Update option, and lastly just tap the Check for Updates option.