MicroVision's pocket laser projector can blow up your iPhone's screen to 100"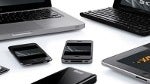 MicroVision SHOWWX+ is a laser pico projector that can fit in your pocket. It is specifically designed to work with the Apple connector, meaning that you can have the screens of your iPod touch, iPhone or iPad projected to any surface at up to 100" diagonal size. Since it uses laser projection technology, the image is always on focus, and, for connecting to other devices, there is a VGA adapter, sold separately.
Brightness is quite important with these pico projectors, given that you will be carrying it around to many places with different ambient lighting conditions. The MicroVision SHOWWX+ delivers 15 lumen, which is much better than the 6 lumen of the small projector inside the
Samsung Beam
, for example, but still nothing to write home about, and you'll be able to see bright, contrasty images only when it is fairly dark around.
Other specs include the ability to project from up to 100 inches away, and 4.3oz (122gr.) weight with the battery, which lasts about two hours on a charge, and can be juiced up via a microUSB port. Projection is with the fairly decent 848x480 pixels of resolution, and you can find the gadget for $399 on retailers like Amazon. Below is MicroVision's promo video - yes, we too find watching "Night of the Living Dead" while camping a rather creepy idea.
source:
MicroVision
via
DailyMobile