May the 4th be with you: Star Wars tributes from the gadget gang and operators make Monday a little easier
4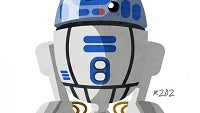 The recent phenomenon that is, "May the 4th," a play on the all-enduring phrase from Star Wars, "May the force be with you," continues this year with a lot of people and businesses sharing their wit in tribute to the iconic movie franchise.
Last year, the UK team with Windows Phone threw out
either an epic troll
, or epic fail, with its tribute to "Trekkies." The responses were equally grand, in a social-media-unforgiving-kind-of-way.
Verizon Wireless took on the day in style, setting up a #CapturetheDroid campaign around New York City. Those that found the Jawas and used the right passphrase could win a trip to San Diego, California. Not such a bad way to promote Big Red's and George Lucas' brands we'd say.
Mircosoft's Windows team linked back to its blog for all sorts of promotions, including up to 66% off purchases on Star Wars Commander and Star Wars Rebels: Recon Mission for Windows and Windows Phone. There are also a variety of digital gift cards available for Xbox and Windows. There is even a sale on The Music of Star Wars: 30th Anniversary Collector's Edition through the Music Deals app. Some of the promotions end tonight, others go on for a few days.
Indeed, 2015 has some equally witty and fun tips acknowledging Star Wars. Microsoft's Lumia UK team avoided the faux-pas this year, opting instead for something far more meaningful. It was apropos, so we saved it for last.