Our favorite companies have their own take on "May the fourth," Windows Phone UK earns a facepalm
30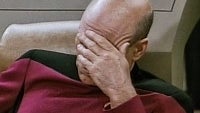 Social media is a pretty unforgiving place. When you do things right, the word spreads promptly thanks to a loyal following, but do something wrong, and it will really spread like a wild fire. For the
Star Wars
loyal, May the 4th has become an impromptu holiday with a play on the famous line, "May the force be with you."
We are sure that some of these nuanced days either delight, or cause teeth grinding wonder. Needless to day, "may the 4th be with you" is here to stay, for the foreseeable future at least.
Some of our favorite companies, manufacturers and carriers, took to the Twitter-sphere with some pretty neat plays on the day. US Cellular threw out a whole bunch of posts to share the spirit of the Star Wars fan. HP was in on the game too. Nokia, as you might expect, did their part, as did HTC and Google.
Microsoft, on the other hand, was hit-or-miss. Team Windows earned a "nicely played" recognition. Windows Phone UK, did not. Now, it could be chalked up to trolling, but within the replies and retweets, there was one Microsoft employee alerting another to the miscue (to no avail).
Just as entertaining as seeing Windows Phone UK cheer on "trekkies" (as in from
Star Trek
, hence the classic Jean-Luc Picard facepalm) along with their
Star Wars
salutation, were some of the responses. We picked a few out of the hundreds to share a good chuckle. Some of the folks were outright distressed (some things apparently are that serious) at the faux pas, but then again, this might have been trolling at an epic social media level. What do you think?