Lenovo to out Android-based IdeaPad Yoga convertible by the summer
3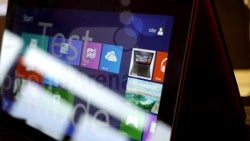 Lenovo plans to take its
IdeaPad Yoga
convertible, and make an Android device out of it, sources indicate. It has apparently been planning to do this, with an Intel processor inside, as soon as last quarter, but the launch of a newer iPad by Apple, and the onslaught of Windows 8/RT slates and cheap Android tablets, postponed the decision.
Now it has evidently been given the go-ahead by management, and we can expect something similar to the
IdeaPad Yoga 11S
, with its 11.6" touch display that swivels back 360 degrees to meet the keyboard part back, and become a tablet.
Lenovo's upcoming Android convertible will likely be powered by Intel or ARM-based processors (what else is out there), and be released by the summer, added the "
industry sources
". Watch our
hands-on with the Yoga 11S
below, and imagine how this would look like with Android to gain a rough idea what might be coming from Lenovo in the following months.