Lenovo greets Windows 8/RT with the bendy IdeaPad Yoga, Twist and Lynx convertibles, prices start at $600
10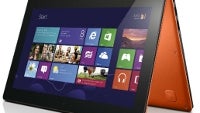 Lenovo just introduced not one or two, but four Wiindows 8/Win RT devices, filling every market niche imaginable for Microsoft new operating system edition(s).
The most intriguing one for the mobile warrior is the flippable
Lenovo IdeaPad Yoga 11
- it runs Windows RT, has 11.6" 1366x768 IPS LCD display with multitouch capabilities, and is powered by a quad-core Tegra 3 processor. The specs bonanza doesn't stop here, though, as the slate sports 2GB of RAM, 64GB of internal memory, HDMI-out port, and the large battery is good for the whopping 13 hours on a charge. It is 0.67" thick, pretty reasonable for a touchscreen convertible with a full-fledged keyboard part.
The most intriguing thing about the Yoga 11, however, just like with its larger sibling, the
Yoga 13
running Win 8 on Core i5, is that you can keep pushing the screen back after you've reached the flat 180-degree stage, until its back touches the back of the keyboard half, essentially turning it into a tablet. The keyboard automatically shuts off after you pass 180-degrees, so no need to worry about accidentally pressing keys and such. The Yoga 11 weighs 2.7 pounds, and it's big advantage before the Yoga 13 are the five more hours of battery life. The 11-incher will be available December, starting at $799, while the more powerful Yoga 13 will start off at $1,100 on October 26.
The other convertible to point your attention to is the 11.6"
Lenovo IdeaPad Lynx
- it runs on the same new Atom processor the
Acer Iconia W510
does, and offers the ability to run Windows 8, with all of its legacy apps compatibility, for up to 8 hours on a charge. The Lynx will cost $599 in December, sports an integrated stylus, and there is an optional keyboard dock for it that adds 8 more hours of battery life, plus USB port, for $149 more.
Lenovo also unveiled an
IdeaPad Twist
touchscreen ultrabook, which has a more traditional convertible design with a swivel hinge that allows you to plop the 12.5" screen over the keyboard and make it a tablet. The Twist will run Windows 8 with laptop class up to Core i7 processors and storage options available. It starts at $849 with October 26 availability.
The
Lenovo ThinkPad Tablet 2
Windows 8 tablet also got its pricing, and it is the reasonable $649 for a 10" enterprise-oriented slate, with 4G and docking options, that will hit the shelves this month.
What do you think about the new Lenovo convertibles that will greet the Windows 8/RT era, did the company manage to do something interesting?
Lenovo Premiers Yoga and Debuts Family of Convertible Devices Designed for Windows 8
NEW YORK– October 9, 2012:
Lenovo
(HKSE: 992) (ADR: LNVGY) today announced a new family of
four convertible devices
designed for Windows 8/RT to change the way people use PCs and redefine the future of mobile computing. For consumers, the touch-optimized family includes the IdeaPad Yoga 13, a foremost blend of play and productivity, Yoga 11, a svelte, all day mobile companion, IdeaTab Lynx, a premier dual core Intel® Atom-based™ tablet, and for professionals, the ThinkPad Twist, a business-ready device that puts a new spin on the traditional convertible tablet.
"Our family of Ultrabook™ convertibles addresses the unique needs of consumers, businesses and everyone in between by creating high performance laptop-tablet combinations in new designs and different sizes," said Peter Hortensius, senior vice president, Lenovo, and president, Product Group, Lenovo. "We think these innovative convertibles are the best devices for a groundbreaking touchscreen experience, plus their multi-modes give people even more ways to use their PC."
IdeaPad Yoga 13 Flexes Into Totally Unique Poses
The
IdeaPad Yoga's
revolutionary hinge allows it to uniquely move 360° and fold from laptop to tablet in one simple motion. As one of the world's first multi-mode Ultrabooks, Yoga 13 provides a high level of flexibility between work and play without compromises. Infused with powerful 3rd generation Intel® Core™ processors and running Windows 8, Yoga 13 provides laptop-grade performance to get work done all day without slowing down with its super slim 16.9 mm frame and eight hours of battery life.
At the flip of the hinge, Yoga 13 transforms into a media-friendly tablet primed with rich audio-visual features including Dolby® Home Theatre®. Visuals - photos, videos and websites - look stunning on its 13.3-in high definition IPS display, which provides bright background and vivid colors. Users can even gesture to flip through photos and other content with Yoga 13's special Motion Control technology or simply use their fingers on the multi-touch screen.
"The Yoga convertibles are a great example of the commitment Lenovo has made to continued innovation with Windows," said John Case, vice president, Worldwide OEM Marketing, Microsoft Corp. "The commitment is evident in the beautiful hardware designs that exhibit flexibility, mobility and extended battery life; combining that with the new capabilities of Windows 8 these PCs provide an experience that is sure to delight customers."
IdeaPad Yoga 11 Balances Power and Mobility
Yoga 13's smaller screen size counterpart, Yoga 11, is the world's slimmest multi-mode PC, measuring just 15.6 mm. Yoga 11's slim design, 11.6-in screen and long 13 hour battery life make it a great convertible for mobility. Equipped with NVIDIA Tegra 3 – the world's only quad-core processor for Windows RT – Yoga 11 lets users watch HD movies, play games, get connected and stay productive with Microsoft Office applications virtually all day long. As an added bonus, both Yoga 13 and 11 can be used in completely new ways: convert them into a Stand1 by flipping the keyboard behind the screen to comfortably watch movies or view pictures up close, or bend them upright like a Tent2 to bring games or video chats to life.
"The IdeaPad Yoga 11 is elegant, thin and light, combining the convenience of a tablet with the capability of a laptop," said Rene Haas, vice president, Notebook Business Unit, NVIDIA. "Powered by the energy-efficient Tegra 3 processor, the Yoga 11 lets you work and stay connected all day long – and leave your laptop charger at home."
IdeaTab Lynx Connects to Digital Life
The IdeaTab Lynx is one of the first Windows 8-based tablets with the latest dual core Intel® Atom™ processor. This feather light 11.6-in tablet caters to the mobile individual who wants to combine fun and work: users can interact with a variety of Windows 8 apps via its multi-touch screen when on the go or they can connect it to its keyboard for a full-function PC experience that includes writing documents in Microsoft Word, creating presentations in PowerPoint and building spreadsheets in Excel. With Lynx, users can leave the power plug behind thanks to its incredible 16 hours of battery life (with optional base), and they can enjoy cinema-quality sound with Dolby® Home Theatre® and easily connect to printers, hard drives and other accessories with a full size USB port when attached to the base.
ThinkPad Twist Puts New Spin on Small Business Computing
ThinkPad Twist makes it easy to choose one affordable device that can do it all. Use it as a full-performance Ultrabook, and then twist the top to switch to a convertible tablet. The 12.5-in ThinkPad Twist gives professionals the technologies they need for both their business and personal computing. For exceptional business-class productivity, ThinkPad Twist packages up to 3rd generation Intel® Core™ i7 processors, up to Windows 8 Pro, optional 3G3, large storage up to 500 GB or 128 GB SSD and the ThinkPad-brand's legendary keyboard and quality and reliability features. Users can work for hours with nearly all-day battery life and tablet-like quick resume from standby. This powerful machine also includes dedicated software tools specifically for small business including Lenovo Solutions for Small Business powered by Intel Small Business Advantage and Lenovo Cloud Storage by SugarSync.
ThinkPad Twist's luminous high definition 350nit IPS display and Dolby® Home Theatre® audio produce a stand out multimedia experience. Whether it's a client video presentation or action-packed movie, simply connect to high definition video with Twist's mini-HDMI or DisplayPort jack and turn up the volume. Like Yoga, Twist can convert into new modes like Stand, a great position for work collaboration via the multi-touch screen.
"Lenovo was one of the first to embrace convertible design coupled with touch interaction in a big way and the Yoga 13 and ThinkPad Twist are both remarkable devices that are sure to wow consumers," said Kirk Skaugen, corporate vice president and general manager, PC Client Group, Intel. "These designs fueled with powerful Intel 3rd generation Core processors will deliver the key attributes of the PC and tablet into a single system—essentially people are getting 'two for one'."
The previously announced ThinkPad Tablet 2, designed for Windows 8 and powered by Intel's next generation CPU technology, will also debut this month alongside the new convertibles. This multi-use tablet lasts over 10 hours on a single charge, weighs in at 1.3 pounds – lighter than its leading tablet competitor - includes an optional digitizer and pen for precision input, offers 3G and 4G4 (US only) wireless for virtually anywhere, anytime connectivity and runs Windows 8 apps and familiar desktop applications. This versatile tablet lets users work the way they want to with multi-finger touch support, pen input or the ability to connect to the optional ThinkPad Tablet 2 keyboard and dock for a PC-like computing experience. The ThinkPad Tablet 2 includes a host of IT manageability, security and corporate-level service and support to help IT managers easily deploy it in their business environments.
Flexible Service and Support
Lenovo offers a full suite of services for the new devices, including In-Home Warranty upgrades for service at the owner's home or business, and Accidental Damage Protection on select products to help insure against damage from accidents like drops, spills, electrical surges, or screen malfunctions. The IdeaTab Lynx comes with an optional second year of warranty coverage. A full lineup of Lenovo Services for Small Business backs up ThinkPad Twist. Customers can select from a portfolio of warranty upgrades, Accidental Damage Protection, Keep Your Drive and other protection services valuable to today's small businesses. Additionally, Lenovo Premium Support's expert technicians are available when needed with convenient over the phone or remote session support from the comfort of home.
Pricing and Availability5
The IdeaPad Yoga 11 will be available starting in December. MSRP starts at $799.
The IdeaTab Lynx and options keyboard will be available in December. MSRP starts at $599 for the tablet and is $149 for the options keyboard.
The ThinkPad Twist will be available starting on Oct. 26 via Staples and other retailers, business partners and
www.lenovo.com
. MSRP starts at $849.
The ThinkPad Tablet 2 will be available starting in November through business partners and
www.lenovo.com
. Pricing for models starts at $649.