Lenovo Vibe X2 Pro vs Samsung Galaxy S5 vs HTC One (M8): specs comparison
6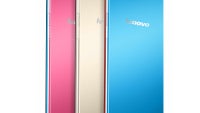 Lenovo's at it again! We've certainly associated this potent China-based giant with not one or two smartphones throughout 2014, and from the look of it 2015 will be no different. Lenovo kicks off the year with two new handset offerings at CES 2015, one of which is called the
Lenovo Vibe X2 Pro
, a beefed-up variation of the
world's first "layered smartphone
", the Vibe X2.
As such, the Vibe X2 Pro also employs this interesting design in its exterior, which is one of the bigger highlights of the device.
Apart from being a tad different from its rivals in terms of looks, Lenovo's new handset is not exactly made of flagship material. Don't get us wrong, the Vibe X2 Pro is well-endowed under the hood, but it can't compete with the top-tier players. Its 64-bit Snapdragon 615 packs eight cores, some 2 gigabytes of RAM, a 5.3-inch 1080p display, a 13MP snapper, two nano-SIM slots, and a 2,410mAh battery. The price that Lenovo put on the smartphone is $499, but sadly, you won't be able to get it in the US.
However, let's check out how it fares against some of the usual suspects on the smartphone stage in a specs sheet battle.
Super AMOLED
S-LCD 3
IPS LCD
Scratch-resistant glass, Ambient light sensor, Proximity sensor
Ambient light sensor, Proximity sensor
Ambient light sensor, Proximity sensor
Qualcomm Snapdragon 801 MSM8974-AC (28 nm)
Qualcomm Snapdragon 801
Qualcomm Snapdragon 615
Quad-core, 2500 MHz, Krait 400, 32-bit
Quad-core, 2300 MHz, Krait 400
Octa-core, 1500 MHz, 64-bit
Adreno 330
Adreno 330
Adreno 405
Android (6.0 Marshmallow, 5.1 Lollipop, 5.0 Lollipop, 4.4.4, 4.4.2), Samsung TouchWiz UI
Android (6.0 Marshmallow, 5.0 Lollipop, 4.4.3, 4.4), HTC Sense UI
Android (4.4), Lenovo Vibe UI
Qualcomm Quick Charge 2.0
21.00 hours
the

average

is 11 h (660 min)
16.2 days (390 hours)
the

average

is 29 days (688 h)
21.00 hours
the

average

is 0 h (0 min)
20.00 hours
the

average

is 0 h (0 min)
20.7 days (496 hours)
the

average

is 0 days (0 h)
Single camera
Dual camera
Single camera
Aperture size: F2.2; Focal length: 31 mm; Sensor size: 1/2.6"; Pixel size: 1.12 μm
Aperture size: F2.0; Focal length: 28 mm; Sensor size: 1/3"; Pixel size: 2 μm
3840x2160 (4K UHD) (30 fps), 1920x1080 (Full HD) (60 fps)
1920x1080 (Full HD) (60 fps), 1280x720 (HD) (120 fps)
Yes
HDR, Continuous autofocus, EIS, Video calling, Video sharing
HDR, Video light, Video sharing
2.1 MP
5 MP
13 MP
1920x1080 (Full HD)
1920x1080 (Full HD)
5.59 x 2.85 x 0.32 inches (142 x 72.5 x 8.1 mm)
5.76 x 2.78 x 0.37 inches (146.36 x 70.6 x 9.35 mm)
5.76 x 2.80 x 0.27 inches (146.3 x 71 x 6.95 mm)
5.11 oz (145.0 g)
the

average

is 6 oz (171 g)
5.64 oz (160.0 g)
the

average

is 6 oz (171 g)
4.94 oz (140.0 g)
the

average

is 6 oz (171 g)
Back: Plastic
Back: Aluminum
Back: Aluminum
Water, Dust; IP67
Splash; IPX3
Touch sensitive control keys, Interchangeable covers, Notification light
Touch sensitive control keys