Lego Hero Factory: Invasion From Below invades all platforms next January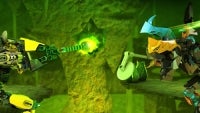 It's been revealed that the Lego Hero Factory: Invasion From Below game will appear on iOS, Android, Windows 8 and online in Europe in January 2014. The game is developed by Amuzo, which previously made Lego Star Wars: The Yoda Chronicles and other Lego games.
The story is about as fresh as a decade-old serving of McDonald's French fries: "Work on a construction site within the heart of Antropolis City has come to an abrupt halt as a deadly new threat has accidentally been uncovered. Suddenly a swarm of beasts invade the city from below causing chaos, their motives are unknown and their intelligence is brutal. To save the city from swarms of menacing minions and their five gigantic, evil boss beasts, the experienced champions of the Hero Factory must combine forces and create new powerful Battle Machines to once again save the galaxy. Their quest will take them through Antropolis city and down to an underground world of crystal caves, acid pits and magnetic chambers."
Then again, this is a Lego game, so fun is guaranteed. And the previous installment of the Lego Hero Factory series, Brain Attack, celebrated over 50 million worldwide play sessions. According the developers, each encounter has been designed with a sense of scale, and there are plenty of power-ups and perks to help you overpower the enemy forces.
source:
Appsgoer Forums
via
Pocket-Lint