Latest Samsung Galaxy Note 4 commercials show that the handset offers more than meets the eye
38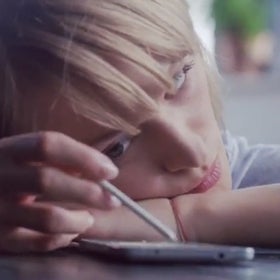 Samsung is restlessly creating ads and promo videos to showcase its
Galaxy Note 4
- which, in case you didn't know, is being
launched around the world
this month. The newest Note 4 ads, unveiled today by Samsung, don't try to
make fun of Apple
(as some of the previously released ones did), instead concentrating on two of the handset's most important features: the display and the S Pen stylus.
As you'll see in the videos - embedded below - Samsung says that the new and enhanced S Pen is actually "not a pen". It's "air scissors", a "glue stick", and even an "itchy head scratcher." As for the 5.7-inch Super AMOLED display with 1440 x 2560 pixels, this isn't just a screen. It's a window - or two -, a "front row seat," or a camera that's also a notebook.
Unlocked, the Samsung Galaxy Note 4 costs around $700, but you'll be able to get it for as low as $299 on contract in the US (via Verizon, AT&T, or Sprint).
Are you looking forward to getting your hands on a Galaxy Note 4? Let us know in the comments!