LG's webOS TV will probably not make an appearance at CES 2013
2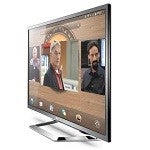 We got word in October that LG and Gram (HP's spin-off for webOS) was working on what would be the
first OEM to take advantage of Open webOS
in a new smart TV line-up.
Gram
has been working with LG on a number of challenges to advance this Open webOS project, from addressing available applications to tackling slow start-up times. At the same time, the two companies have been looking at existing LG hardware to see where designs need to be optimized on the new product. The goal was to be able to show something off at CES 2013 next month in Las Vegas.
Work continues on the project, but it looks like the company will pass on trying to make it to CES (it was an optimistic goal). It also looks like that working on this project with LG will be the main focus of Gram for the time being, since it was thought in some circles that Gram would be operating a little more visibly by now.
We will be covering CES, so if we come across a fancy new LG component sporting Open webOS, we will definitely let you know.
source:
webOS Nation