LG sells over 1 million Optimus LTEs in Korea
6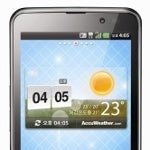 LG's Optimus LTE is one of the more successful high-end launches for LG in recent history, and now the figures prove it - the handset has sold in
more than 1 million units in its home market of South Korea
.
Back in January, LG reported about Optimus LTE sales crossed 1 million units worldwide, and now we can guess that the global sales number has increased hugely as well. It may also be among the best selling LTE phones so far, and 4G LTE is certainly one of the features that allowed it to become so popular.
Now, that falls short of the big sellers like Samsung's Galaxy S series, which sold over 10 million units in just a couple of months, and even the Galaxy Note which registered over 5 million sales. We do appreciate though LG publishing sales data for its Optimus LTE as more and more companies continue to not give us exact figures, and leave us reliant on analysts rough estimations for the actual state of the mobile industry.
What seems to bring even more promises however is the Optimus LTE successor, the LG Optimus LTE2, the first phone with 2GB of RAM. Are you looking forward to it?