LG introduces a new Isai device, comes with 3GB of RAM and VoLTE on board
7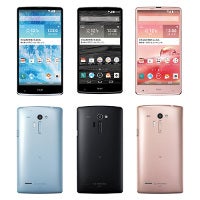 Do you remember the
LG Isai FL
? This was the very same device that, at the time, was regarded as
the dead giveaway of LG G3's design
. It was made exclusively for KDDI, one of Japan's carriers. Apart from employing head-turning design with rather slim, 1.15mm bezels, the LG Isai FL was also the first smartphone from a well-known large manufacturer to sport a Quad HD display and break the 500ppi pixel density barrier. The device is by no means long in the tooth as it arrived (in Japan) just several months ago, yet LG and KDDI have just announced a refreshed version of the device, dubbed LG Isai VL.
It comes with the same, 5.5-inch Quad HD display that made the rounds in the Isai FL, which means that we are once again dealing with a respectable pixel density of 534ppi. Truly said, there are a few, yet substantial areas in which the Isai VL surpasses the FL – the RAM department and the call-making capabilities, to be exact. Whereas the Isai FL came with 2GB of RAM, its successor is a tad more future-proof with the 3GB of operational memory that can be found inside. The LG Isai VL is also among the first VoLTE-enabled devices in Japan. Oh, and it's dust- and water-proof, too.
However, it's too soon to speculate whether the LG G4 will bear as much similarities with the Isai VL as the LG G3 had with the Isai FL, so don't get too excited. Don't expect the Isai VL to be available outside of Japan, too.