Leaked LG Isai photo may give us the first clues about LG G3's design
83
If @evleaks's latest discovery reallyis what it's cracked up to be, then what you are seeing here is the next LG Isaismartphone, made exclusively for the Japanese telecom KDDI. How isthis relevant? Well, if the leaked photo is legit, then this couldbe our first sneak-peek at what the upcoming LG G3, and perhaps theNexus 6 to an extent, will look like.
How do we know that? The LG Isai waslaunched as a KDDI Japan exclusive last year, and as you can see foryourself (in the image below), it's basically the LG G2 without the back buttons, and withadditional plastic around the edges. It also has the same specs asLG's 2013 flagship, but it launched in cool aqua and blue colors inaddition to the black and white shades we know.
We cannot conclude very much about theLG G3 from this photo, but we're definitely looking at a largedisplay (though less than 6 inches), surrounded by bezels that seemjust slightly thicker than the LG G2's famously thin side frames. Tocompensate, the top bezel is heavily reduced, but there's no front camera to be found. The front camera and microphone are located on the bottom bezel, although you may have to do some brightness and contrast adjustments to the photo to see them clearly. Moving on to the flat,transparent UI that the display shows – well, we probably shouldn'tread too much into it, as this interface is destined only for KDDI'ssmartphones. Still, it is rumored that LG has been working to flattenand simplify its Optimus UI.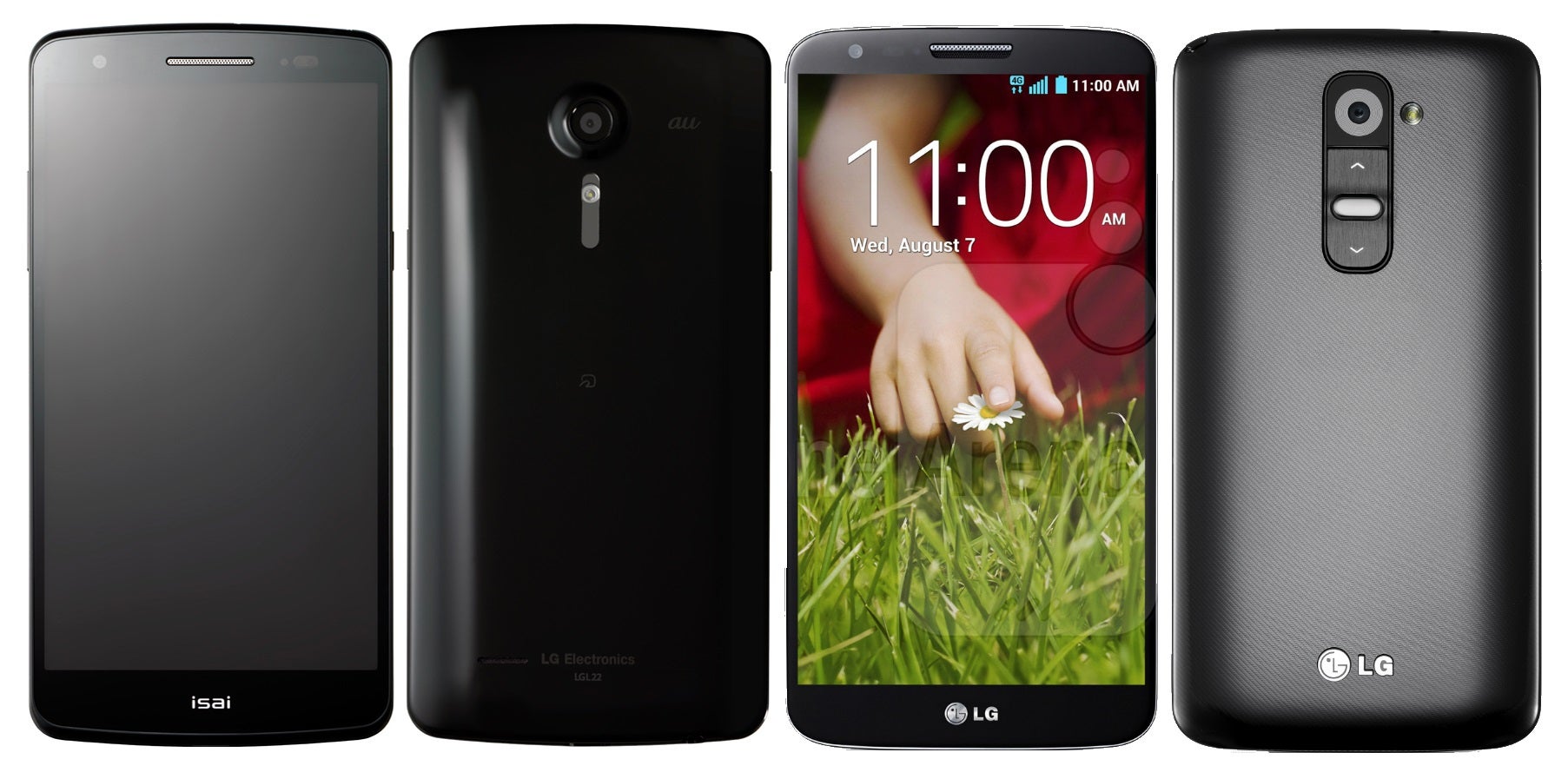 Close relatives - the LG Isai (2013) on the left, and the LG G2 (on the right)
Unlike the 2013 Isai, which has aregular button layout, the new design introduces the LG G2'sback-panel controls. It's a very different implementation, however -the volume controls are much thinner, while the lock/unlock button is moved to the right of the handset. The camera and flash are easy tospot, but the thingy to the left of the volume keys leaves us puzzled.Perhaps it's a sensor of some kind. We can also see a headphone jack on top, a microUSB port on the bottom, anda lone speaker. Like in the G2, there's no microSD slot.
As a whole, this is an impressivephone, and if it's for real, the LG G3 won't look much different.Still, there are a good two months before the smartphone's allegedJune announcement, and by then we will surely have a much betterimpression of its design.
source: @evleaks