LG announces LTE voice/video calling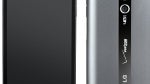 It is the first day of the Mobile WorldCongress in Barcelona and we already have some exciting news from LG– the company will demonstrate Voice over LTE (VoLTE) and Videocalling over LTE on its first 4G smartphone, the LG Revolution.
The "One Voice" protocol willdeliver a boost in voice quality – one thing that hasn't improvedthat much in recent years. The standard is expected to be adopted byother cell phone producers in the future. LTE speeds and technologywill allow for carriers to offer HD voice quality through AdaptiveMulti-Rate wideband, while at the same time you will be able to keepyour existing number.
"By showcasing the power of LTE, wehope consumers will better understand how fast mobile technology canbe and help drive the industry closer toward this exciting reality,"said Dr. Jong-seok Park, president and CEO of LG Electronics MobileCommunications Company.
source: LG