LG L35 made official - the company's most humble Android for the season
8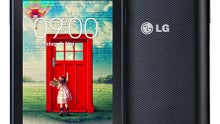 Without much fanfare, LG just made the
L35
official. In fact, the company's most humble Android device only received a listing on LG's German website, but it counts as an official announcement, so here's the full scoop on the L35.
It's got a 3.2-inch, 320x480 (HVGA) pixel resolution IPS-LCD screen, and runs on the latest build of Android Kitkat - 4.4.2. The L35 is powered by a 1.2 GHz dual-core Snapdragon 200 (MSM8210) chip by Qualcomm, with ARM Cortex-A7 CPU and Adreno 302 graphics (the same chip running the new
Moto E
), and 512MB of RAM. The imaging department will make do with a 3-megapixel rear-facing shooter, and there's a 1540 mAh juicer keeping the lights on. The amount of on-board storage, unsurprisingly for this class, sits at just 4GB, though there is a slot for a microSD card for up to 32GB more.
The LG L35 measures in at 109.4 x 59 x 11.9 mm, which makes it rather chunky, but it weighs just 108.4 grams, and its body comes in both a black and white version, with patterned removable back cover. The L35 will be released in European countries including Germany, Spain, Italy, Portugal, and Hungary. Pricing hasn't been set yet, but we'd wager to guess this one will hit rock bottom, scooping the loose change in your pocket only. Despite its miniature dimensions, the phone sports all the good stuff that comes with LG's L-series, like Capture Plus, Knock code and so on, and overview of which you can see in the video below.