Jawbone Jambox The Remix brings punchy color combos, lets users decide how to mix it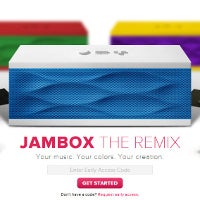 The Jawbone Jambox is one of our favorite mobile accessories - it's a Bluetooth speaker that amps up the volume and has a distinct light and simplistic modern design. So far, you could only order it in a few colors, but no extensive customization options. That changes now, as the company launches its Jawbone Jambox The Remix project where users get to mix different colors for the speaker grills and box of the Jambox, creating unique combinations matching their own style.
There are 13 color choices for the speaker grills and 9 for the caps, and if you find it hard to deal with all those colors Jambox is bringing some "Popular Remixes" to help you out. You can also select one of three types of speaker grills - a dotted one, a wavy "Hex" pattern and a triangular "Diamond" design. That makes up a total of 117 combinations which the folks from Jambox will then assemble and deliver within 7 to 10 days. The price remains $200.
Currently, the Jambox Remix project is only open to insiders and Klout users from today until August 27th. Then, it opens its virtual doors for everyone. Check out a few combos made with the new Jambox Remix, neat, right?
source:
Jambox Remix
via
SlashGear