Is a Motorola RAZR HD to be released in Europe?
24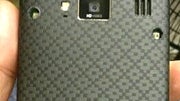 Not long after the
Motorola DROID RAZR
launched on Verizon last year, an international version of the smartphone called the
Motorola RAZR
was released too. Unlike its U.S. counterpart, the latter lacked LTE support and came with a GSM radio, but other than that, the two handsets were more or less identical. Now, it seems that the same might happen after the rumored
Motorola DROID RAZR HD
is unveiled, as indicated by a bunch of spy photos.
Judging by its software version, t
he device that you can see in the slideshow below is given the model number XT925, while the DROID RAZR HD is believed to go by the XT926 model name.
Also, it runs Android 4.0.4 Ice Cream Sandwich and it is meant to run on Vodafone's cellular network.
But what's most obvious is that the handset in the photos has a back cover with a pattern quite different from the one that we saw on those
leaked DROID RAZR HD photos
. Last but not least, the folks at XDA Developers claim that the pictured smartphone has an 8-megapixel camera, although the Verizon-bound
DROID RAZR HD would still launch with a 13-megapixel shooter
on its back.
Are we looking at the yet-unannounced Motorola RAZR HD? We aren't really sure and we won't be drawing any conclusions after only a single leak on the table. Perhaps more information on the matter will surface once Verizon and Motorola make the DROID RAZR HD official. In the meantime, feel free to drop a comment below and tell us what you think about the device's alternative pattern.
Recommended Stories