Droid RAZR HD poses for Mr. Blurrycam
87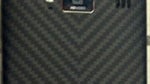 Our friends over at Droid-Life got some early pics of the upcoming Motorola Droid RAZR HD, and it appears that Motorola is taking the "make fewer hero-devices" mantra seriously. In the photos you can see the trademark Kevlar weave on the back. The "
Droid X
hump" that has characterized so many Motorola devices is almost entirely gone, instead the RAZR HD sports seems to have the slightest bit of a wedge-shape, more akin to the
RAZR MAXX
.
The body shape isn't the only thing shared with the RAZR MAXX – Motorola is reported to be packing a 3300 mAH battery into the device, which should lead to impressive battery life. Maybe even more than impressive, as the handset is expected to be powered by the Snapdragon S4, whose smaller die process has led to
battery life improvements
among phones with less generously sized batteries.
According to the source of the images, the screen on the RAZR HD is amazing, and the final device is expected to use on-screen buttons much like the Galaxy Nexus (will this become a permanent fixture now that Motorola belongs to Google?). Also noteworthy is that the launch of the device is still a couple months off, so if you're a Verizon customer with an upgrade burning a hole in your pocket you should probably either resign yourself to being patient, or snap up a
Galaxy SIII
when they go on sale this summer.
What do you think about these pics? The wrap-around Kevlar is nice to look at, and should address the complaints that the RAZR (and to a lesser degree the RAZR MAXX) received indicating that the sharp-edged devices where somewhat uncomfortable to hold. Is this your cup of tea, or will you be turning to a device that won't require such a wait?
source:
Droid-Life
Recommended Stories