Instagram for Android gets a "Notify Me" page – no release date yet
3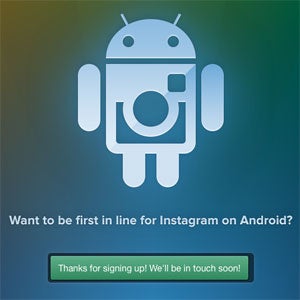 It had been a few weeks since
Instagram for Android was spotted as SXSW
. While once again we were all promised that it is coming really soon, there has been no hard evidence besides a glimpse of it running on Kevin Systrom's personal phone.
In a complete display of "slowly but surely," Instagram has now added an official coming soon page to its website – with no release date. The good news is the announcement does come bundled with a "notify me" option where you can plug in your email.
It is not abundantly clear exactly what you're signing up for. It could be to be told how soon it's coming, to be told when it comes, or to be invited into some sort of beta group, but if you are stoked about Instagram for Android, be sure to head on over to
http://instagr.am/android/
to enter your email address into some company's database in exchange for an unknown benefit
to sign up.
Thanks to our tipster!
source:
Instagram