IDC estimates a 171.6% growth for the wearable market in 2015, FitBit is still king of the hill
3

According to the latest report from market research firm IDC, Q4 2015 saw the global wearable device market inflating by 126.9% compared to the same period the year before. For the entire year of 2015, the market grew 171.6% year-over-year.
During the last quarter of the year, IDC says that a total of 27.4 million wearable devices were shipped, a notable increase compared to the 12.1 million units shipped in Q4 2014. On a yearly basis, global wearable device shipments grew in 2015 to 78.1 million units from 28.8 million units in 2014.
Despite these increases, however, IDC's Ramon Llamas notes that there's still much room for growth, as wearable devices "have yet to fully penetrate the mass market".
Although the Apple Watch made a notable dent in its market share, FitBit has remained the world's largest wearable device manufacturer by units shipped. In fact, the data for Q4 shows that FitBit was actually able to push back against Apple. In the holiday quarter, FitBit is estimated to have controlled a market share of 29.5%. For the full year, IDC says that FitBit's share of the market was one of 26.9%, meaning that more than one of each four shipped wearable devices was made by FitBit.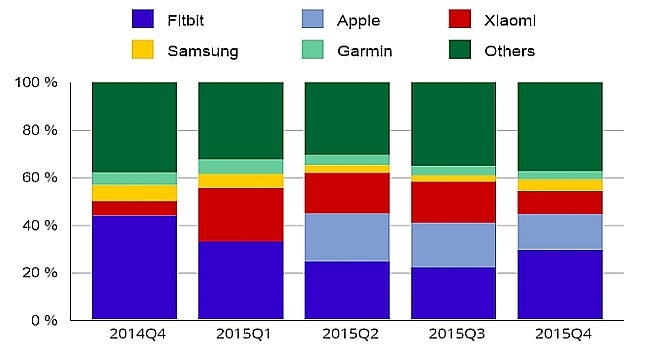 The same report shows that Apple was able to maintain a positive trajectory when it comes to raw wearable shipments. Compared to Q3 2015, when the company is estimated to have shipped 3.9 million units, about 4.1 million Apple Watch units are believed to have shipped in Q4 2015. However, when we look at Apple's market share evolution over the company's three quarters of activity as a wearable device maker, we can note a decline, from 20.2% in Q2 to 18.6 in Q3 and 15% in Q4 2015.

When it comes to wearable devices, the rising star of the past year was Xiaomi, a company that was able to ship 12 million units in 2015, up from just 1.1 million units the year before. Much of Xiaomi's success was found in China, where Xiaomi's very affordable fitness bands (usually priced between $11 and $20, depending on the model) were able to strike a sensitive cord with customers.
According to the recent IDC report, Garmin finished the year with 3.3 million shipped units. Samsung, with 3.1 million units completes the top five, but it's worth noting that the company displayed the lowest growth rate out of the top 5 wearable device makers.