Head of Microsoft's Windows division goes skateboarding…on a Surface tablet
15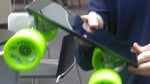 Steven Sinofsky decided to go for a spin today and take along a skateboard. That is not an uncommon occurrence, but his chosen skateboard was. It was a Microsoft Surface tablet. Earlier, we got to
look at what went inside the tablet
and a little bit about the ideas that went into making it.
That magnesium frame is certainly strong enough to put up with a fair amount of abuse. One would not think of it as a mode of transportation first though. Microsoft is certainly not going to start marketing this idea. Double-checking the pre-order site, there does not appear to be a skateboard accessory cover or wheel kit available. What this informal stunt does do however, is drive home the point that this tablet is built to handle whatever we throw at it.
We are not so sure an iPad, or any other tablet for that matter, would fare so well. Sinofsky put a couple pictures on his twitter feed to share the unscientific experiment. Now, we wonder if it will blend.
sources:
Steven Sinofsky
(Twitter) via
Neowin