Hands on with the Samsung Pixon12
2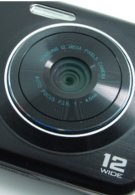 It feels like only yesterday when the Samsung Pixon (Memoir in the US) was released to a world that was starved for a really good camera phone. It was one of the first 8-megapixel cameraphones that replaced the 5-megapixel models, trying to compete with stand-alone cameras. Now roughly over a year later, we are yet again treated to another great Samsung handset – the Pixon12. During the short time we've had with this nifty packed full of goodies handset, we're already starting to see where the direction is headed and how it may cause a change in the phone photography market.
This feature phone is packing some serious heat with it on top of its 12-megapixel canvas. In just a one year span, we've seen some new technologies made its way onto this device with the usual upgrades in specs. Not only does the 3.1" AMOLED screen makes an impression with its vivid and deep colors, but the 480x800 pixel resolution makes viewing images on the screen more pleasurable. Alongside all the phenomenal specs, the latest edition of Samsung's very own TouchWiz interface is powering this behemoth. Let's hope that the software lives up because we know all too well how powerhouse handsets falter when it comes down to software navigation. We'll go into detail more about this exciting handset – and of course how it stacks up in the photo quality department.
Expect our full in-depth review soon!
Samsung Pixon12 Specifications