HTC's Re camera now supports live YouTube streaming
1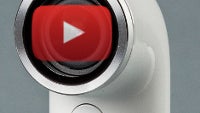 Do you remember the HTC Re camera, an accessory that HTC today revealed that its unorthodox Re camera accessory will allow its users to directly stream videos to YouTube on the go. Starting tomorrow, HTC will be rolling a free update to the companion Re app for Android smartphones and after said update hits your device, streaming live to YouTube with your Re camera will be as easy as pie. The iOS companion app of the Re camera will get updated with the same functionality later in Q1 2015.
After the update hits, you'll have to connect your HTC Re to your own YouTube channel by signing in the latter from the companion app. Then, simply activate YouTube's live streaming feature, and... well, that's about it. Sounds quite easy and worry-free, right? Well, frankly said, we did not expect anything less from HTC.
From this point on, everything regarding live streaming from your Re camera becomes pretty standard - if users miss your live broadcast, they can easily watch it all later. You can also choose if your live stream will be available to the wide public or a more limited audience.
Sony's also among the manufacturers that have implemented a similar feature in one or another - most of top-end Xperia devices usually come with live streaming to YouTube.
source: HTC