HTC logs a disastrous drop in Q1 revenue, looks forward to the HTC 10 and Vive sales
40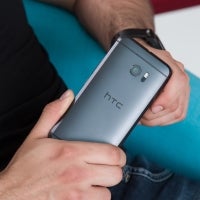 HTC just outed its financial results for the first quarter of 2016, and they are fairly gloomy, as can be expected from results prior to the
HTC 10
flagship sales figures. The company's net loss after taxes was about $80 million on a steep revenue drop of $457 million - for comparison, that is 64% less than the same quarter last year.
The company is not too worried about the Q1 results, though, as it thinks it has invested enough in the future directions with the
HTC Vive
virtual reality setup, and the
HTC 10
flagship. These are indeed proving to be pretty popular in their first weeks on the market, so we'll see how the tide will turn in the second quarter in terms of financial results.
Granted, HTC has to battle the fierce competition of other VR sets, and other high-end phones from Samsung and the like, but this time around it has pretty competitive products, and might turn the financial doldrums corner. Moreover, it says it will keep streamlining its operations, and introduce more efficient production processes. We guess that means Robert Downey Jr won't be re-hired for
kinky expensive short ads
any time soon.