Got an HTC Vive? You can receive texts and calls within its virtual reality! (Android and iOS)
13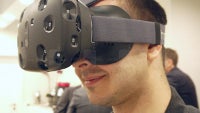 The
HTC 10
is not the only high-profile product to come from the company this spring. As you most probably know, HTC partnered up with PC game developer and distributor Valve to manufacture a pretty solid, industry-leading VR set, called
the HTC Vive
. The goggles come with a dedicated set of dual controllers for the user's hands, and a couple of external cameras that help the software build a virtual world that fits inside your room. The Vive VR is made specifically for prolonged usage and has features to make if easier for the user to jump out to the real world and back in with just the push of a button.
Well, since phone calls and texts are also a thing from the real world, HTC has decided to make it easy for users to receive said social contacts without needing to remove the geeky goggles. A special Vive app, which has been out for Android for a few weeks and has now hit the App Store as well, allows the user to pair their smartphone to the Vive goggles via Bluetooth. As a result they can receive calls, texts, and calendar notifications straight in the virtual reality.
The notifications will not interrupt play, which is good if you happen to be playing a zombie survivor game, and will be tucked away in the Vive tab in the System Dashboard. From there, the user can choose from a set of pre-made quick replies, or to call the sender back.
Unfortunately, it doesn't seem like the app supports notifications from the many other chat tools that we use nowadays – Facebook Messenger, WhatsApp, Viber, et cetera. Here's hoping that its range of notifications would widen in the future.
HTC Vive app:
Android
|
iOS