HTC Puccini to be announced during a media event on June 27?
4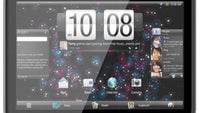 Remember when the HTC Sensation got
announced back in April
? The whole event was surrounded by mystery up to the very last moment. At the same time, people were trying hard to guess what new groundbreaking device or technology the manufacturer was about to reveal.
Well, it is the same thing happening all over again. According to some spicy rumors,
HTC has another media event scheduled for June 27
, and just like the case was with the Sensation's announcement, the party will supposedly take place in London. Besides that, it has been said that during the event,
HTC will introduce the latest addition to its portfolio of high-tech devices
.
So, if the rumors turn out to be true, which will be the device that we will see once the curtains go up? The answer to this question is anybody's guess at this moment, but it is speculated that it may be no other than the
HTC Puccini
. It was more than a month ago when we first heard a rumor that
HTC was working on a 10-inch Honeycomb tablet
by that name, and soon after that, it was suggested that the device was actually almost
ready for mass production
. What has also been said about the HTC Puccini is that it will likely be AT&T's first LTE-enabled device and will come equipped with a speedy 1.5 GHz dual-core chipset. Could the tablet be getting ready to make its first official appearance?
Luckily, we won't have to wait long to see what the truth is as all rumors will be put to rest in 5 days. Be sure that we will be keeping an eye on the matter and will let you know as soon as we learn something new.
source:
Planet Android
(translated) via
AndroidGuys