HTC Sensation hits all your senses with all-new Sense UI, 1.2GHz dual-core CPU
23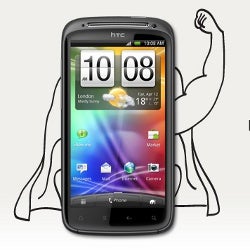 The HTC Sensation is the flagship manyof us have been waiting for and finally it's as official as it gets.The Sensation was announced at the company's press event in Londonand it iterates on the familiar HTC Sense, but with a touch ofrefinement and functionality straight from the lock screen. You can choose between a number of lockscreen options such as weather updates, quick access to apps and a handful of clock widgets. A 1.2GHzQualcomm MSM8260 dual-core chipset will support the gorgeous 3D-liketransitions in the menu, all carrying resemblance to the ones on the HTC Flyer tablet.

The phone is also the first with a contoured glass4.3-inch display meaning that your Super LCD screen is set back slightly to avoidscratches and up the game in terms of typing ergonomics. The screen is further enhanced by Gorilla Glass technology. Nicely done! The resolution is qHD (540 x 960) with an aspect ratio of 16:9, perfect for watching movies. Overall, the handset has a premium feel mainly due to its solid aluminum back and substantial weight of 5.22 ounces (148 grams) and thickness of 0.44 inches (11.3mm). It also carries the typical industrial design notes which identify it as an HTC product from the first look.


On the back you have an 8MP camera withdual-LED flash with "instant capture," meaning little to no lagbetween pictures. The camera is also capable of recording video at 30fps in full HD (1080p) resolution, which matches the Samsung Galaxy S II, one of the most capable phones we've seen so far. It also has a separate video trimming application for basic editing on the go. One welcome addition is a microUSB port with mobile high-def video link (MHL), which basically means that you can connect an USB or HDMI on the same port and your device will be charging even via HDMI. The "superphone" also comes with DLNA and support for Wi-Fi printing.

HTC Watch
feature from the Flyer tablet allowing for on-demand viewing of Hollywood blockbusters (with more than 600 in-store). Streaming won't be a problem as the handset supports up to 14Mbps on the downlink with HSPA+, which classifies loosely as 4G.
Finally, it's great to see that the company demonstrates synergy in HTC-developed products as many features from the tablets are carried to phones. Stateside, it's coming to T-Mobile in the very near future and without a shadow of doubt it will be the most powerful phone in the carrier's lineup. We're off to get some quality time with the device, but full hands-on treatment is coming soon, so stay tuned.

source: HTC