HTC One M8 Prime to be waterproof and made out of an exotic material, other features revealed
59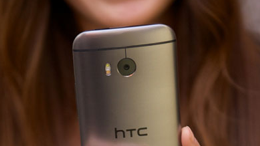 We have more details about the rumored
HTC One M8 Prime
, a device that's
supposed to be HTC's next-gen flagship smartphone
. Following an interesting discussion that ensued on Twitter, well-known insider @evleaks seems to have revealed some key features of the M8 Prime.
It's said that the upcoming HTC handset would be made "out of an exotic material, a composite of aluminum and liquid silicone." The device should be waterproof, offering a 5.5-inch Quad HD (1,440 x 2,560) display, quad-core 2.5GHz Snapdragon 805 processor, 3GB of RAM, and support for LTE-A Cat. 6.
All these details came in response to Jeff Gordon (HTC's Senior Global Online Communications Manager), who initially tweeted that "in the past few days, a well-known leaker has been completely wrong about at least two of his leaks." Obviously, the HTC exec was referring to @evleaks. We can't know for sure if he's right or wrong about the One M8 Prime, but his track record is excellent (with only a few misses), so for now we're inclined to believe he knows what he's talking about.
Using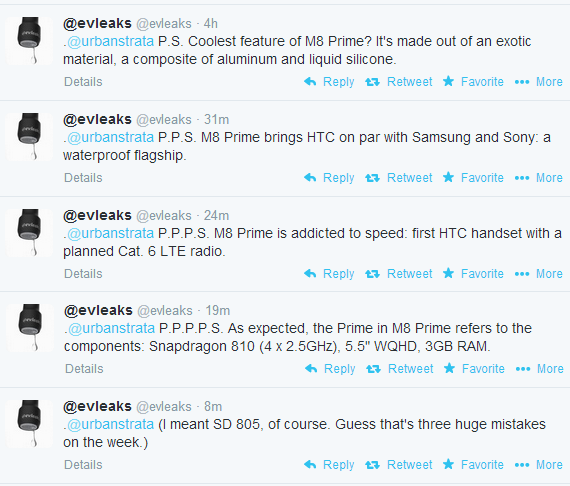 a Snapdragon 805 SoC, Qualcomm already showed us (at MWC 2014 in February) that it can achieve
300Mbps download speeds via LTE-A Cat. 6
. The M8 Prime should be HTC's first device to support this high-speed 4G technology.
It remains to be seen if the One M8 Prime will have the same design as the current
One M8
flagship smartphone (and the
One mini 2
). Unfortunately, HTC might not announce the handset before September. Anyway, we'll definitely let you know when new info about it arrives.