Qualcomm used a Snapdragon 805-equipped Samsung Galaxy Note 3 to showcase 300Mbps LTE-A Cat 6 download speeds
30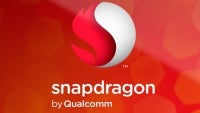 In cooperation with Samsung,Qualcomm Technologies Inc. made an impressive showcase of both whatits latest 32-bit silicon and LTE Advanced Category 6 are capable of. At MWC2014, a special Samsung Galaxy Note 3 phablet outfitted withQualcomm's supercharged Snapdragon 805 chipset and a Qualcomm Gobi9x35 modem, achieved incredible download speeds of up to 300Mbps.
For comparison, the average Americandownload speeds are 21.5 Mbps for Broadband, and 10.4 Mbps formobile, according to Net Index. Obviously, that's not going to cut itfor comfortably streaming 4K video, which is an important feature inQualcomm's latest available Snapdragon 801 chipset. 4K content alsoserves to explain why one would need such manic speeds in a mobiledevice.
While the Snapdragon 805, which isexpected to appear in devices from May, is a miracle on its own, theGobi 9x35 is no small feat of Qualcomm's engineering. It's the firstcommercially announced 3G/LTE multi-mode modem based on 20nmtechnology, and is also backwards compatible to support all othermajor cellular technologies. This includes WCDMA /MC-HSPA, CDMA1x/EVDO Rev. B, GSM/EDGE and TD-SCDMA. The incredible download speedsare achieved by combining two 20MHz signals to provide twice theamount of bandwidth.
This is great and all, but knowing you- our passionate readers, the burning question here is whetherSamsung will introduce a Snapdragon 805-equipped Galaxy Note 3 soon.Frankly, firing up a factory to produce a single demo unit for showpurposes doesn't make sense. And if Sammy has already put in the workto fit Qualcomm's latest silicon in its best phablet yet, it might aswell manufacture this bad boy. Who knows, the Galaxy Note 3 mightjust become the first device to run on the Snapdragon 805.
However, it's likely that the renovatedphablet will remain an exclusive to South Korea's SK Telecom for sometime, if it ever becomes widely available. Such was the case with theGalaxy S4's Snapdragon 800-based LTE Advanced version. It wasintroduced in June 2013 as a South Korean device, a mere three monthsafter the original Galaxy S4's glitzy March 15 launch event. It latercame to a number of European countries in November 2013, and that waspretty much it.
Still, if Samsung ever decides to pushan updated Galaxy Note 3 to the global market, we now have a prettygood clue about which chipset could power it.
References: Householddownload index – United States
Recommended Stories