HTC EVO 3D for Europe Hands-on
3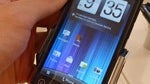 For HTC Europe, it's been a good day. We were very kindly invited to share in the opening of a UK HQ, and also given the opportunity to try out their latest Europe wide release - the
HTC EVO 3D
. Yes, you heard it, EVO and Europe in the same sentence.
HTC are bringing the EVO line to Europe starting with their
3D offering
. The HTC EVO 3D should be on general release in the next couple of months with no word as to price-point or carriers just yet. Specced almost identically to its US counterpart, the EVO 3D runs Android Gingerbread along with Sense 3.0 on top. You'll find a dual core 1.2GHz processor and the two 5MP cameras everyone's talking about. This enables you to capture 3D photo and video content and either view it all on the on-board 3D display, or externally. 3D content can also be viewed from YouTube, and should be released on the HTC Watch service later this year.
While the device sports the same sized
qHD screen
as the
HTC Sensation
, is expandable via microSD card and shares most of the same hardware, the build is markedly different, with a rubberised soft-touch backing and a more rugged, angular look and feel. With more presence in the hand, it also makes for a better camera experience thanks to a grippier chassis and a nice large shutter release. For a tour round the handset, check out our hands-on video below.
So there you have it,
European HTC fans
have cause to celebrate, they finally have the EVO line and more specifically, the EVO 3D, which should be expected to hit shelves sometime in July. For more info on the US release, check out our full
HTC EVO 3D Review
.
HTC EVO 3D Demonstration:
HTC EVO 3D Hands-on: