HTC Best Deals brings time-limited bargains to Android and Windows Phone
3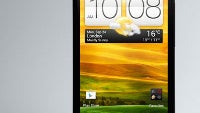 HTC has unveiled Best Deals, a service that would bring time-limited deals straight to your HTC Android or Windows Phone 8 device. The new service is first making a landing across Europe with 1,700 deals from the likes of Trip Advisor and Living Social. The initial launch markets include the UK, Italy, Germany, France, and Spain.
The first phones to get the Best Deals offers are the Android-based HTC One X+ along with the two new HTC Windows Phones, the 8X and 8S.
So what is it exactly that you'd be able to buy for less on HTC Best Deals? Turns out - pretty much everything starting with cheaper meals, cosmetic treatments to more devices like the company's own gadgets and accessories. Overall there a 12 companies that provide the deals for HTC, but more should be added soon. Hit the presser below for all the details.
source: HTC

HTC LAUNCHES BEST DEALS SERVICE

Customers get access to thousands of discount deals

UK, 26th October — HTC, a global leader in mobile design and innovation, today announced Best Deals, a new service that delivers personalised money-saving deals direct to your HTC smartphone.
Categorized by your preferences and interests, this service uses your location to bring you all of the best discounts in your area. Preferred deals can be reviewed, bookmarked or shared with a single click; they can also be sorted by popularity, discount, price and expiration date.
"HTC strives to deliver the best web content and services to its customers," says Cédric Mangaud, Vice President of Value-Added Services for HTC. "We're excited to be launching a service that gives you the very best deals, in line with your own personal interests, wherever you are."
Partners
HTC has built partnerships with 12 leading deal providers across the five launch markets, UK, Italy, Germany, France and Spain, including LivingSocial, that will provide four of the five markets with deals, Trip Advisor, Qype Deals and Offerum.* Best Deals customers will have access to thousands of local offers and will also benefit from exclusive deals for a range of HTC products and accessories.
"HTC's dedication to providing personalised experiences fits perfectly with the diversity of our handpicked deals service," says Peter Briffett, Managing Director for the UK and Ireland at LivingSocial. "Our wide range of location-based offers will allow HTC smartphone owners to take advantage of hundreds of deals in their local area, from Michelin-starred dining and luxury spas to supercar racing days and hot air balloon rides."
HTC will continue to secure a range of additional deal categories after launch by establishing new partnerships with a number of providers and mobile operators.
Availability
The Best Deals application and widget will be available on the new HTC One X+, and the Windows Phone 8X and 8S which launch in November. It will also be included in the upcoming software update for the acclaimed One series devices, the HTC One X and HTC One S.
A total of 1,700 deals and offers will be available at launch.
About HTC
Founded in 1997, HTC Corp. (HTC) is the creator of many award-winning mobile devices and industry firsts. By putting people at the center of everything it does, HTC pushes the boundaries of design and technology to create innovative and personal experiences for consumers around the globe. HTC's portfolio includes smartphones and tablets powered by HTC Sense™, a multilayered graphical user interface that vastly improves user experience. HTC is listed on the Taiwan Stock Exchange (TWSE: 2498). For more information, please visitwww.htc.com.
###
* Deals will be provided from 12 providers that include: LivingSocial, Trip Advisor, Qype Deals, iVoucher, Offerum, Lookingo, Lets Bonus, Elgrupazo, Daily Deal, Deal Ticket, Getbazza and Prezzo Felicea.
The names of companies and products mentioned herein may be the trademarks of their respective owners.