Green Moto X shows up in Guy Kawasaki's Motorola Campus Party Pics
22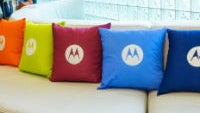 Apparently, last week there was a party on the Motorola Campus, and one of Motorola's newest employees Guy Kawasaki took some pictures to show us what was happening. While the photos themselves were not taken with a Moto X (rather with a Fujifilm camera), the Moto X did show up in one of the shots.
For the most part, the photos show a lot of people getting various Motorola swag, which mostly amounted to different shirts with the traditional Motorola logo in multiple colors. The Motorola logo was everywhere, even on some colorful pillows. But, the picture that we're interested in is one of a few guys sitting on a couch outside, because one of the men is holding what looks to be a bright green Moto X.
The device looks just like you'd expect given the leaked images we saw of the
Moto X backplate
in multiple colors. There may have been other Moto X handsets at the event, but this was the only one being shown off in a photo. Just a few days left until we see the official reveal.