First pics of the Moto X backplates leak
45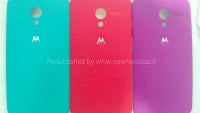 We are quite obviously getting very close to the official reveal of the Motorola Moto X, because the leaks are coming fast and furious now. We've already seen a couple of
places
, including
ABC News
, repeating information that we had reported months ago, and now we're seeing the first leaked pictures of the Moto X backplate in various colors.
As we've been saying
since March
, Motorola is going to offer a choice of colors for the Moto X, and there should be well over 20 different colors from which to choose. Now, we're getting to see four of those choices. We're not art majors, but the colors look to be: cyan, magenta, violet, and lime green (although, they could very well be sky blue, crimson, fuschia, and plain old green for all we know, but you get the idea).
Word has it that in addition to the backplate color options, the trim of the device itself will match, but we haven't yet seen that caught on camera.
What color would you want for your Moto X?