Google to soon unveil the final name of Android M
47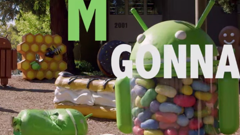 First showcased back in May at Google I/O 2015, Android M will be properly released later this year, most likely in October, when new Nexus smartphones are also expected to be unveiled (one
made by LG
, and another one
made by Huawei
).
While we heard that
Android M's version number would be 5.2
, we still don't know what its final name will be. However, we might soon find out. A video released today by Googlers Nat and Lo (who not only work at Google, but also "make videos about different Google stuff") is suggesting that the final name of Android M will be revealed this month.
As you can see below, the video is of a song which reminds us of all the names that previous Android versions had, starting with Cupcake, and ending with Lollipop. It then goes on to list various possible names for Android M (including Marshmallows, Milkshake, Muffin, Maple Syrup, Marzipan, Macaroon, M&M, Moon Pie, and so on), finally asking: "what's M gonna be?" It looks like we will get the answer next week, when the next episode of Nat and Lo's series will be released. Until then, let us know what you think the final name of Android M will be, okay?
via:
Droid-life