The Huawei Nexus reportedly stars in this 10-second video: reveals fingerprint reader, possibly USB Type-C
35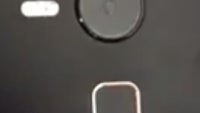 This year, Google is expected to launch two Nexus devices - a larger, Huawei-made one, and a refreshment of the 2013 Nexus 5. While the latter reportedly leaked a couple of days ago, today we are treated to a 10-second video that is allegedly showing us Huawei's first crack at making a Nexus smartphone for Google.
First things first, it's rather hard to say whether the phone featured in the video is a metal or a plastic one - although the rear cover looks like it has a slight metallic finish, it also reminds us of the matte plastic that adorned the rear of the Nexus 5. The matter will remain open until the phone becomes official... Or a more credible leak comes along!
Just as previously rumored, the device in the video right below features a fingerprint reader at the back, hardware buttons positioned on the right side of the phone (which is in line with Huawei's design language), and a Nexus-y camera module at the back that looks pretty similar to the one of the back of the Nexus 5, for example. In addition, the port at the bottom of the phone looks like a USB Type-C one, falling in line with certain rumors we had heard through the grapevine.
Judging from the most recent tidbits of info we've heard about the Huawei-made Nexus, the device might come with a 5.7-inch QHD AMOLED display, and a Qualcomm Snapdragon 810 (as the Snapdragon 820 is not out yet). Whether these will hold water remains to be seen.
It is also worth noting that the same source that released the purported Huawei Nexus prototype also
seemingly leaked the Huawei Mate 8
one a few days ago.