Google sends out invitations for an event that dives further into Honeycomb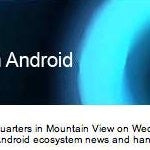 Now that everyone under the sun managed to get a small sampling of Google's highly anticipated next version of Android, it seems that they company is throwing a special event next week to go in-depth at some of the new features.
For something that's positioned to be a true tablet OS, it only makes sense to find the Mountain View based company to officially show off all the ample aspects of Honeycomb. Interestingly enough, invitations were sent out to various web sites for a special event that's going to be held on
February 2nd
where they will be providing some ecosystem news and demos about Honeycomb. If you haven't checked out our
preview on Android 3.0
, you might want to look it over to see the major updates that's going to come along with the upcoming version of Android.
And you never know, maybe we might learn something new with the platform that we haven't seen before – or maybe they might unveil some kind of new hardware? In any event, the date will be here sooner than you think!
via
SlashGear