Google Pixel 3 XL vs Galaxy Note 9 vs iPhone XS Max: Specs comparison
11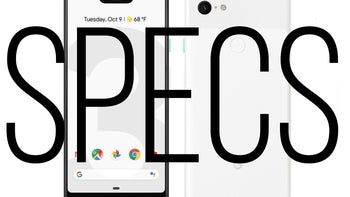 With the Pixel 3 XL, Google is certainly betting big on becoming a mainstream smartphone maker, which it kind of failed with the previous generations of its smartphone lineup due to certain supply and availability issues that plagued it. Hopefully, the Pixel 3 XL won't be subjected to the same set of problems.
Anyhoo, now that the Pixel 3 XL with its eye-sore notch is official, a slew of specs comparison are in queue to mercilessly stack it up against some of the very best phones out there, and chief among these are the Samsung Galaxy Note 9 and the iPhone XS Max. Each is ponying up a rather commendable bag of features that will certainly give the new Pixel 3 XL a run for its money, though we shouldn't underestimate the new Google flagship at all.
How does the Pixel 3 XL stack up against those two, pound for pound? Of course, specs aren't everything as they don't factor in the software and the overall experience, yet it's still rather important to compare the hardware prowess of all three devices and see which one would net the most bag for the buck.
OLED
Super AMOLED
Super AMOLED
HDR support, Pressure-sensitive, Oleophobic coating, Scratch-resistant glass, Ambient light sensor, Proximity sensor
HDR support, Scratch-resistant glass, Ambient light sensor, Proximity sensor
HDR support, Scratch-resistant glass, Ambient light sensor, Proximity sensor
Apple A12 Bionic APL1W81 (7 nm)
Qualcomm Snapdragon 845 SDM845 (10 nm)
Qualcomm Snapdragon 845 SDM845 (10 nm)
Hexa-core, 2490 MHz, Vortex and Tempest, 64-bit
Octa-core, 2800 MHz, Kryo 385, 64-bit
Octa-core, 2500 MHz, Kryo 385, 64-bit
Apple 4-core GPU
Adreno 630
Adreno 630
64GB, not expandable
128GB
64GB, not expandable
iOS (15.x, 14.x, 13.x, 12.x)
Android (10, 9.0 Pie, 8.1 Oreo), Samsung One UI
Android (12, 11, 10, 9.0 Pie)
USB Power Delivery
Qualcomm Quick Charge 2.0, Samsung Adaptive Fast Charging
USB Power Delivery
25.00 hours
the

average

is 11 h (660 min)
38.00 hours
the

average

is 11 h (660 min)
12.0 days (288 hours)
the

average

is 29 days (688 h)
29.00 hours
the

average

is 0 h (0 min)
3G: 14 hours; LTE: 16 hours; Wi-Fi: 17 hours
Dual camera
Dual camera
Single camera
12 MP (Sapphire crystal lens cover, OIS, PDAF, CMOS image sensor, BSI sensor)
12.2 MP (OIS, PDAF, CMOS image sensor)
Aperture size: F1.8; Focal length: 26 mm; Sensor size: 1/2.55"; Pixel size: 1.4 μm
Aperture size: F1.5/F2.4; Focal length: 26 mm; Sensor size: 1/2.55"; Pixel size: 1.4 μm
Aperture size: F1.8; Focal length: 28 mm; Sensor size: 1/2.55"; Pixel size: 1.4 μm
12 MP (Telephoto, Sapphire crystal lens cover, OIS, PDAF, CMOS image sensor, BSI sensor)
12 MP (Telephoto, OIS, Autofocus)
Optical zoom: 2.0x; Aperture size: F2.4; Focal Length: 52 mm; Sensor size: 1/3.4"; Pixel size: 1 μm
Optical zoom: 2.0x; Aperture size: F2.4; Focal Length: 52 mm; Sensor size: 1/3.4"; Pixel size: 1 μm
3840x2160 (4K UHD) (60 fps), 1920x1080 (Full HD) (240 fps), 1280x720 (HD)
3840x2160 (4K UHD) (60 fps), 1920x1080 (Full HD) (240 fps), 1280x720 (HD) (960 fps)
3840x2160 (4K UHD) (30 fps), 1920x1080 (Full HD) (120 fps), 1280x720 (HD) (240 fps)
OIS, Time-lapse video, Continuous autofocus, Picture-taking during video recording, Video calling, Video sharing
Time-lapse video, Hyperlapse, Continuous autofocus, Object tracking, EIS
OIS, EIS, Video calling, Video sharing
7 MP
8 MP
8 MP
1920x1080 (Full HD) (60 fps)
2560x1440 (QHD) (30 fps)
1920x1080 (Full HD) (30 fps)
6.20 x 3.05 x 0.30 inches (157.5 x 77.4 x 7.7 mm)
6.37 x 3.01 x 0.35 inches (161.9 x 76.4 x 8.8 mm)
6.22 x 3.02 x 0.31 inches (158 x 76.7 x 7.9 mm)
7.34 oz (208.0 g)
the

average

is 6 oz (171 g)
7.09 oz (201.0 g)
the

average

is 6 oz (171 g)
6.49 oz (184.0 g)
the

average

is 6 oz (171 g)
Back: Glass; Frame: Stainless steel
Back: Glass (Corning Gorilla Glass 5); Frame: Aluminum
Back: Glass (Corning Gorilla Glass 5); Frame: Aluminum
Water, Dust; IP68
Water, Dust; IP68
Water, Dust; IP68
3D Face unlock
Iris scanner, 2D Face unlock, Fingerprint (touch)
Fingerprint (touch)
Notification light, Stylus