Deal: Garmin Fenix 5X Sapphire is $100 off at Amazon
1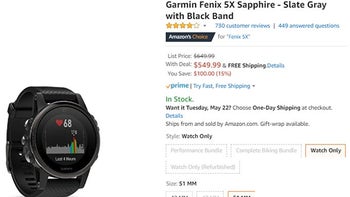 The
Garmin Fenix 5X Sapphire
is one of the expensive smartwatches from the lower tier launched last year, so the chance of it getting a meaningful discount is pretty small. However, as Garmin launches other models, the older ones are likely to have their retail prices drop.
It's true that Garmin's premium smartwatch is on sale on Amazon, but the discount could be considered rather small in comparison with the wearable device's MSRP. Customers looking for a premium smartwatch can get the
Fenix 5X Sapphire
for just $550, exactly $100 less than the smartwatch's retail price.
Saving 15% may not seem too much of a deal at first glance, but it's $100 that you can use to buy something else. It's worth mentioning that price mentioned above is for the 51mm variant, which comes in Slate Gray and features a black band.
The 42mm model (
Garmin
Fenix 5S) that comes in black and features a black band as well, is on sale as well for $550, so you'll actually save $150 since the smartwatch usually sells for $700.